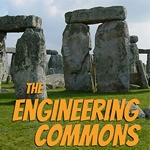 The Engineering Commons Podcast: "Join engineers Adam, Brian, Carmen and Jeff as they discuss issues of importance to today's engineering professional. Guest engineers frequently provide insights based on their real-life experiences."
---
The E&T Podcast: "E&T magazine presents a rolling series of audio podcasts to accompany each issue of the magazine. Engineering and technology developments, news and interviews will be covered throughout the series."
---
Engineering Ethics: "This course introduces the theory and the practice of engineering ethics using a multi-disciplinary and cross-cultural approach. Theory includes ethics and philosophy of engineering. Historical cases are taken primarily from the scholarly literatures on engineering ethics, and hypothetical cases are written by students."